IZATYS RESORT
Hi Rod, just got home after a very busy day moving furniture around and starting to put things where they belong. After this coming weekend, it's time to just enjoy ourselves and have fun. Thank you again for all your efforts in this project . If ever I have a new project, I'd love to use you as my realtor. Your professionalism and attention to detail were wonderful. Have a good 2018 and beyond! Sue
Lone Lake
Rod Want to thank you for all you did. I know this Cabin was not easy one to Sell and that the other realtor was a pain to work with. We are so grateful to have this done and move onto the next phase of our life. Thanks again and if we are ever up Aitkin way we will stop in to say hi Barb
6/9/2017
Our property deep in the woods on a small lake was not an easy sell, but Rod knew just how to position it with potential buyers. His photographs really showed the tranquil beauty of the place. Best of all, he protected our interests as sellers throughout the transactions. When the first buyer pulled out, he immediately got hold of one who was waiting in the wings and made the sale. I highly recommend Woods and Shores! -- Cynthia Lueck Sowden
I have bought and sold homes in some of America's garden spots and worked with top realtors across the country and Kathy Sparks is one of the finest. She skillfully, navigated the contract, keeping my interests as seller in the forefront of the deal. She was always available by phone, returning my messages promptly. Considering I was an out of state seller, and closed from a remote location, She e-mailed all contractual documents for signature, this was of the utmost importance; she had my back all the way to closing, and expedited the entire process smoothly. Thanks Again Kathy
Top notch Real Estate! Very experienced in the industry and highest level of integrity in their agents! Fabulous knowledge of the area and property available. We worked with Rod and he was so helpful in explaining the process and getting us comfortable and confident to make great decisions. We love the outcome, and couldn't have found a place more fitting for our life style and needs! He was there from beginning, all the way to the end of the process, ensuring everything was in place and being done correctly! He took the stress out of spending a lot of money and buying a second home - who isn't looking for that?! Rod, we thank you in our hearts for finding you, and helping us find our fabulous cabin on Ross Lake! We "say hi" everytime we pass your business! Warm wishes for a wonderful holiday season! Kathi Schriener
Rod went the extra mile for me in every way on my purchase of a cabin. I live 1500 miles from Aitkin, and Rod guided me through the entire purchasing process. He provided me with names of landscapers to mow the lawn, local banks for the mortgage, surveyors to eliminate flood insurance, and watched over the cabin to make sure everything was in order. He came to the cabin while we were moving in to show me the idiosyncrasies of the cabin. He didn't push any of the cabins we looked at on me, just opened the door, and replied to my questions. I could not have asked for a better realtor or a better buying experience. TDean.
Rod, I want to thank you very much for making our buying experience very enjoyable. As someone from out of the area, I was very concerned about finding a realtor that we could trust and have confidence in. You certainly met those expectations and then some. Within 30 minutes of meeting us, you knew exactly what we were looking for. You did not try and sell us something just so that you could make a profit. When it came to the negotiation phase of our purchase, it was very clear to us that you were representing our best interest. I am a relationship person. I like to do business with people that I have a relationship with and can trust. I am very pleased to add you to that list. Sincerely, Brian and Kari B.
Rod Sparks is the Realtor you hope to find when buying or selling a property. His willingness to provide services beyond just the paperwork was exceptional. He is reliable as well as knowledgeable. We have bought and sold many properties and have also worked in the real estate and mortgage banking industries. Rod is truly exceptional his field. Kay & Doug F.
Kathy represented us on the sale of our cabin, which was in our family for 43 years. It was an emotional decision for us, but one made easier because we knew the business side of the transaction was in great hands. Kathy was such pleasure to work with. She was always available when we needed her, always returned emails and phone calls promptly, and was always willing to go the extra mile. We live 2 hours away from the property, so if something needed to be checked on, she was willing to do it for us. She worked tirelessly to get the cabin sold. My family will always be grateful for her hard work and effort. The Pecks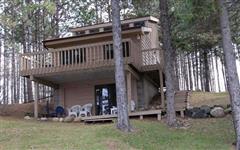 This is the second time I have used Rod's services. He is a very honest and detail orientated realtor. I'd highly recommend him to my friends and relatives. Mark Fandry
Looking for a realtor to find your perfect place Up North? Seek out Rod Sparks at Woods and Shores Real Estate. He treats your investment as if it were his own. Extreme level of integrity. His knowledge of the area, real estate market, and expertise in the process is second to no one. We were happy to have him in our corner as he led us through the process of finding a fabulous home. Kathi S.
Rod is a real estate professional in the truest sense of the word. He is respectful, knowledgeable, and very responsive. He tells you what you need to hear, not what you want to hear. Gordon Vetsch
Rod was wonderful to work with. We had been kicking tires for quite some time and during that process had talked with several other realtors. Rod quickly rose to the top of our list because he was very professional, very patient with our many questions, very knowledgeable of the area, the particular property we were interested in, and even the owner of the property we purchased. We love our new cabin -- the whole realtor experience was great because of Rod. Kathy Brophy
Rod has the reputation in the area that led me to choose him to be my realtor. His office is convenient and his fellow employees are very helpful. In addition Rod was very patient with my desire to hold out for the price I wanted. His participation in the closing process made for a smooth transaction with the buyers. I would recommend Rod and his realty office to anyone! FRengel
"Rod more than earned his commission with us. We actually bought 3 houses with contingencies in our search. He masterfully wrote up purchase agreements so we were able to bypass the first 2 when the contingencies weren't met. He eagerly showed us homes in quite a few towns because we were open to location. There was never any pressure, but he willingly provided his expertise and input when asked and we certainly valued his opinion. He even met us at one home with his 4 wheeler so we could tour the grounds. We met at another in sub-zero weather when time was of the essence. Finally, we closed during a snow storm because he knew we were anxious and our schedules limited. His partner, Kathy (Sparks), played a key role in helping us strategize our financing package. We could not have ended up in our absolute dream home without Rod and Kathy. His help did not end at the sale...Rod was instrumental in clearing up an easement issue having spotted it and drawing up the papers and making the contacts to clear the easement from our property. We continue to seek his advice on many homeowner issues and he is always spot on and responsive. Beyond his fabulous Realtor skill, we have become and remain friends today. While we don't anticipate moving from our dream home, if we did, Rod would without question be our realtor and I strongly recommend him to anyone who wants their own best interests to be carried forward in their search for their dream home or property. He will make it happen for you and then some!!!! Gary and Penny Karasch"
Rod; Thanks for a great job well done! I have already passed your name to people in the Aitkin area and will continue to do so in the future. You are well detailed and a pleasure to work with. Roger Z.
Rod, we are a green light for moving forward with selling our home. Ill drop the papers off at your office tomorrow. I did spent some time this afternoon looking at listings and noticing how much better your listings look with your photos. Thanks for being such an honest and easy person to talk to. It makes this process very comfortable. Jason J.
Rod, It was GREAT!! We have a clean cabin, dock in, caught some fish and did some swimming. Even figured out power to the boat house! :) WE LOVE IT!! Thanks again for everything. You are wonderful to work with and will send potential clients to you in a heart beat!!! If you need a referral, please send them our way. We would be happy to brag you up!! Brenda
Rod - we haven't thanked you for all you did on our recent sale of our lot. It seemed you went above and beyond to help us make the sale and we so appreciate all you did. Of course, your name will be the one we recommend to anyone inquiring about real estate "in our neck of the woods". Last week-end we used your recommendation. Again, thanks for your help. Doug and Judy C.
Rod represented us when we purchased our cabin in Aitkin, MN. Rod was able to gain an understanding of what we wanted very quickly and kept us up to date on current and new listings. Our primary home is in the Twin Cities and we work full-time so we depended on Rod to assess properties for us and provide us with pertinent information prior to us driving to Aitkin. Rod knows the many aspects involved in buying a home. We were impressed with Rod's ability to get things done and done right. He was on top of the process from start to finish and nothing fell through the cracks. He was able to recommend competent people to help us with any services we needed. Rod is an extremely knowledgeable, capable and skilled real estate agent. We always felt that he had our best interests in mind. We would not hesitate to recommend Rod as a realtor and would definitely use him again in the future if the need arises. M & C Edina, MN 4/23/2013
Hi Rod - long time no see nor talk to. Penny and I talk about you and Kathy from time to time and so I decided I should sit down and send you an e-mail. We keep the coffee mugs you gave us on top of the refrigerator so we are reminded often of the wonderful people who helped us get into our retirement dream home. We are still in awe over the wonderful log home we have and in the location it is in. I've said it before but its worth repeating about the professionalism, integrity, tenacity and your commitment to do the right thing is what got us into our wonderful home. We were a couple of naive bumpkins who were blessed to have found such awesome realtors who guided us through a process and the end result couldn't have turned out any better. Your expertise and Kathy's creative financing were just what the doctor ordered for us to end up where we did…. You and Kathy are very special people and deserve nothing but the best because you constantly give your best. Take care - Gary
Hello Rod, gosh, I wish all agents were like you, thank you thank you thank you!!!! I'll send off to seller for execution yet this evening, and we should receive executed contract back by Tuesday or Wednesday. Happy weekend! Debbie, Realtor
Hello Rod, I am so glad I decided to list with you this time. This listing is a big wow! That is more like it! You have hit the nail on the head and listed just what I like about it, the pictures are great! I am so happy so far...Thank you. Sue
Rod, I want to thank you for the time and effort you are putting into this project. Most importantly, the expertise and education you are passing on to us. As a father, you can also appreciate the fact that knowledge gained from others seems to be absorbed when it comes from somebody other than DAD. What we will gain from this experience and hopefully many more is a broadened education through the experience not just for economic gain/loss but most importantly, the knowledge as how your part in the real estate industry intertwines with our part of the industry. So whatever I can do to perpetuate the profession and the 3rd generation of surveyors working with Woods & Shores I'm all for it! Anyhow, thanks to you and Kathy for taking us under your wing and as always the door swings both ways, whatever I can do to assist in any way, all you got to do is call! Thanks again Rod, Sincerely, Terry
Hello to Rod & all, Thanks for the information. We would like to thank all of you for your assistance in purchasing the home UP NORTH. By now, we are knowing half of the population of Aitkin so we need to set up two tents for the house warming party, and for sure, you all will be invited! This has been going so smoothly, unbelievable. Thanks to all of you. Best, Brian and Brigitte
Hi Rod - Thanks for keeping me posted and for being so understanding. That is why I knew to pick Woods and Shores again for the sale - excellent customer service! I am confident that everything will go smoothly through the closing! Have a great day! Sue
Rod, Thank you for the pleasant experience on my recent land purchase. I enjoyed working with an honest hard working businessman. ( that's you) If anyone I know is also looking for property or homes in your area I will definitely recommend WOODS AND SHORES!!! Thanks again Rod, Doug
Rod, Thank you so much! We have been enjoying the stress-free aftermath of such a smooth transaction with you! Thanks again for the wonderful job you performed; it was really such a pleasure! I hope you were able to dig yourself out of all the snow! Alison
Rod, It is wonderful to hear from you! The girls mention your name often and still enjoy talking about our search together as you can see from this photo the poster they made you with a big thank you is wider than our dock. Our time here at the lake has been a pure joy. Pat & I have commented several times over the past year about all the fun we had and how we have created memories that will last a lifetime. Thank you for being a part of those memories. Thanks, Susan
We LOVE our new cabin. It's our "Happy Place". We always wave and say "HI" when we drive by your office every weekend. I hope you enjoy the attached photo with all of us along side your Woods & Shores SOLD sign. Thanks for all you have done in the smooth transaction of the cabin. Take care Rod. Clay & Jenny
Rod, Your ears must have been ringing, I was going on and on about you to one of my staff this morning and then she was standing sort of close by when you called and when I hung up, I said that was him doing his good deeds again! I think they'll be selling at some point soon and if they do I'll be sure and remind her about you - she did ask for your name while we were talking. Penny
Hi, We just listed our home with your company this past week. I have a very peaceful feeling about that decision, especially after receiving "glowing reviews" about you from Helen B. She told me how you went to bat for her and Bob when they listed their place on Nord Lake before moving into their townhouse. I do especially want to comment on a wonderful person you are Rod. You have personality plus, the warmth and sincerity shines thru. It's a true pleasure to have listed with you as well as your firm. Here's wishing us all "good luck", have a happy, peaceful day. Thanks, Helen and Paul
Rod, God has sent me a gift and it was you. I do not know what I would have done without you in this time of deep sorrow. I don't know many people as kind & nice as you. Thank you for seeing me through this and always looking out for my best interest. Helen
Rod, Thanks so much for all you did for us to get the house sold. We really appreciate that you were there to keep an eye on things for us. You were great to work with, both buying the house and selling it. You always went the extra mile and then some. Thanks for helping us get back home. Tony & Pat.
Rod, I spoke with Jack and several others in the area and I have never heard so many good things about a realtor. I sure made the right choice. We really appreciate all the extra's you have done and are doing for us. Thank you. Cheryl
Rod, Jack the inspector had nothing but the utmost kind words for you as a realtor in regards to how well you do your job. He went on & on about your work as a realtor your ethics and morals. Thought it's always nice to hear that. Take care, Sharon
Rod, Thank you for your work in making our dream of owning a cabin come true. We appreciated your honest approach with us, and also in leaving us room to decide without pushing. You were always trustworthy and just an all around great agent for your seller and for us the buyer. May God continue to bless you with the sales you deserve. Sincerely, Joan
Rod, Thank you for your patience during our cabin search. We really needed your experience, advice & professionalism to find our special place. We all were shocked and how smoothly you made everything go. I know you work hard behind the scenes. We wish you much success, The Ryan Family.
Hello Rod, Thanks so much for all your follow through in getting this one closed. You are such a pleasure to work with; and it's so nice when agents are so responsive and helpful!! Deb